Your e-Commerce site may benefit significantly from Shopify themes because they have the power to create a lasting first impression. It has been demonstrated that conversion rates are positively impacted by websites that are aesthetically pleasing and simple to use.
Poorly designed online stores are always evident to customers, which is terrible for your company. The design is still the cornerstone on which everything relies; if you want clients, your website needs to be simple and intuitive. While many eCommerce marketing techniques can increase traffic to your Shopify site, you can hire Shopify experts to design a robust and attractive website.
Accessing gorgeous aesthetics and simple functionality is made possible by using a Shopify theme. Additionally, you don't need a paid theme to be successful; many free themes are just as good as their equivalent premium themes and will help you draw in customers with their user-friendly, client-centered designs.
The top free Shopify theme can be challenging to choose from. There are numerous free design templates available. However, not all of them are current, and some include more effective support options. To help you customize your business and make it yours, we've compiled a selection of the best free Shopify themes you can download immediately.
What is Shopify Theme?
The look and feel of your online store are determined by the Shopify theme, which acts as a framework for your digital storefront. Your website's navigation can be organized and planned however you see fit because each theme offers a variety of layout options. Themes are available both for free and premium.
No matter how contemporary or slick it may look, you cannot simply use a randomly selected Shopify theme and install it in your store due to the abundance of options accessible. What should you prioritize when choosing a Shopify theme, then, is the question that now arises.
The simple solution is to choose the website that gives users the best surfing experience possible, not the visually stunning one. Additionally, the ideal topic can differ from market to market and retailer to retailer, necessitating a careful analysis. Therefore, you must be aware of the technical facets of the themes since they affect not only the user experience (UX) but also the functionality of eCommerce.
Let's look at some of the most significant free Shopify themes accessible now that you know what to look for.
Best Free Shopify Themes
Before making your first few sales, the expense of beginning a new business may be a concern. You may still use the quick, highly-convertible Shopify templates to create one of the ideal e-commerce websites imaginable. The most excellent free Shopify themes created by professionals are highlighted here.
Narrative
Pricing: Free
Theme Style: Cold, Earthly, Light, Warm.
An organization that sells a single product or has a modest selection of things would benefit significantly from the narrative's suitability for visual storytelling. The website Joyous Beam Candles is a live illustration of a Narrative website that uses a warm aesthetic. It is a Shopify store that offers distinctive handcrafted candles in jars manufactured with natural and non-toxic components.
Debut
Price: Free
Theme Styles: Default, Light
The Shopify theme Debut is employed to promote a carefully chosen collection of goods. The simple tool may look straightforward, but this theme has many capabilities. Predictive searches, advertising banners, and customer testimonials are all built-in. To create a user-friendly website, all of these qualities are used. Sleepy owl is a contemporary illustration of a debut. It is a locally produced Indian coffee business with this design for its online storefront.
Simple
Let your products speak for themselves with simplicity. Simple is pushed aside so shoppers can admire the subtle features of your catalog, with built-in specific suggestions and optical zoom for every product.
Minimal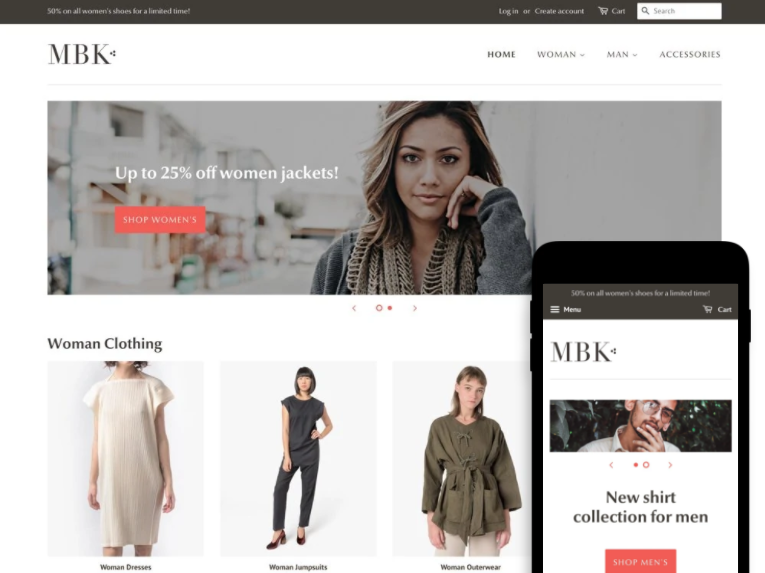 Price: Free
Theme Style: Morden, fashion, vintage
With this minimalistic design, you can neatly arrange your products. It also has an alternative section for a slideshow or video on the home page and built-in product filtering to make the website easy to use for visitors. Beam Box is a genuine illustration of a website with a Minimal design.
Brooklyn
Price: Free
Theme Styles: Playful, Classic
For contemporary clothing companies, Brooklyn is the Shopify theme. Users can add products without leaving the website with features like a slide-out cart and a dynamic product grid. Brooklyn will guarantee that the appearance of your store, clothing, and covers are all excellent. Brooklyn-using website Valka Yoga is an example of one that is now active. Yoga mats are sold via an online store built with Shopify.
Supply
Price: Free
Theme styles: Blue, Light
Your clients will buy more products if you cleverly group them into collections with supply aid. With prominent collections available on your homepage and collection screening in the sidebar, the items your clients are looking for will only be a few clicks away. Cenegenics is the live illustration of a website utilizing Supply. Products connected to women's and men's health are sold on this eCommerce website, created on the Shopify platform.
Venture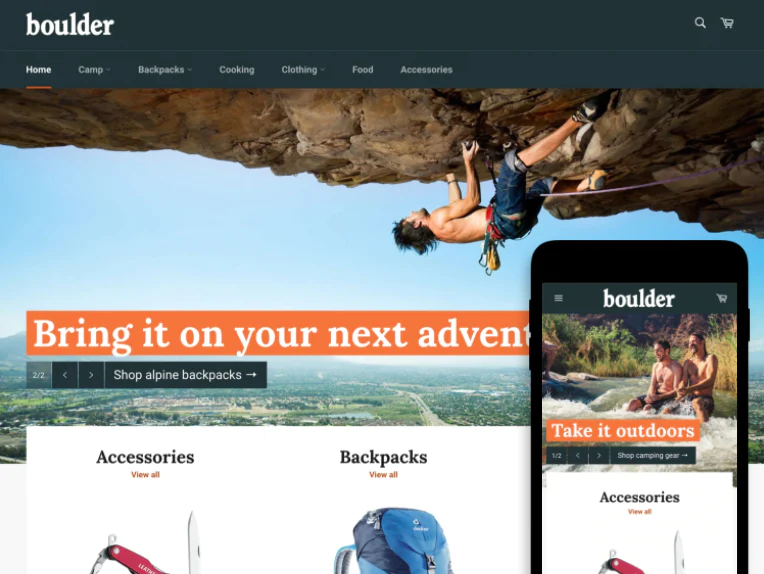 Price: Free
Theme Style: Outdoor, Boxing, Snowboards.
Venture, another free Shopify theme designed for extensive product catalogs, with a multi-column menu that lets you display minute data in a drop-down menu. Should you wish to do so, you can also focus on one flagship product. Youthiapa is a website that uses ventures in the real world. It uses the Snowboard style setting of this theme and is the official online store for the well-known YouTube channel BB Ki Vines.
Boundless
Price: Free
Theme styles: Black & White, Vibrant
With the theme Boundless, which allows your pictures to say a thousand words, you can bring your product photography into sharp focus. A dedicated product gallery or a full-width grid style for your collection of photographs are effective ways to display high-resolution product imagery. Indiholic is a website that uses limitless as a live example. The store sells goods made in India.
Sense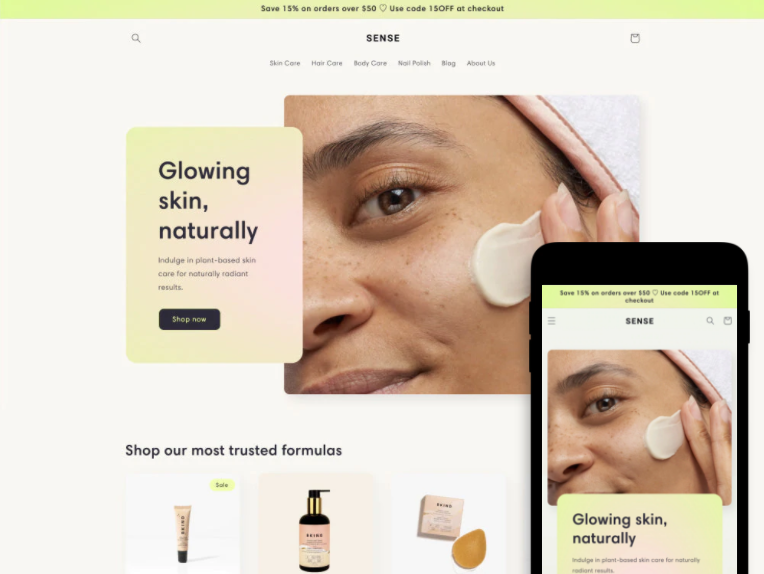 Theme style: Default
With its emphasis on cleanliness and refinement, the sense is convenient for health and beauty shops of any size. New style options, sections for displaying thorough product information, and ratings, helps you build customer confidence. Mojo snacks is a website that uses this as an actual example. The protein bars, balls, and other high-protein foods are sold on this eCommerce website.
Conclusion
Shopify lacks Wix's actual drag-and-drop editors, which let you create your eCommerce store, and Wix's flexibility. Like expensive themes have more options and functionality, free themes on Shopify have fewer. Although Shopify is more expensive than other eCommerce platforms, it is more reliable and scalable than any other platform. If you don't have access to internal developers, you can hire dedicated developers to construct and expand an eCommerce website. You can choose between a paid and a free Shopify theme.
Ronak Patel is the CEO and Founder of Aglowid IT Solutions, an ever-emerging Top Web and Mobile Development company with a motto of turning clients into successful businesses. He believes that the Client's success is the company's success and so he always makes sure that Aglowid helps their client's business to reach its true potential with the help of his best team with the standard development process he set up for the company.